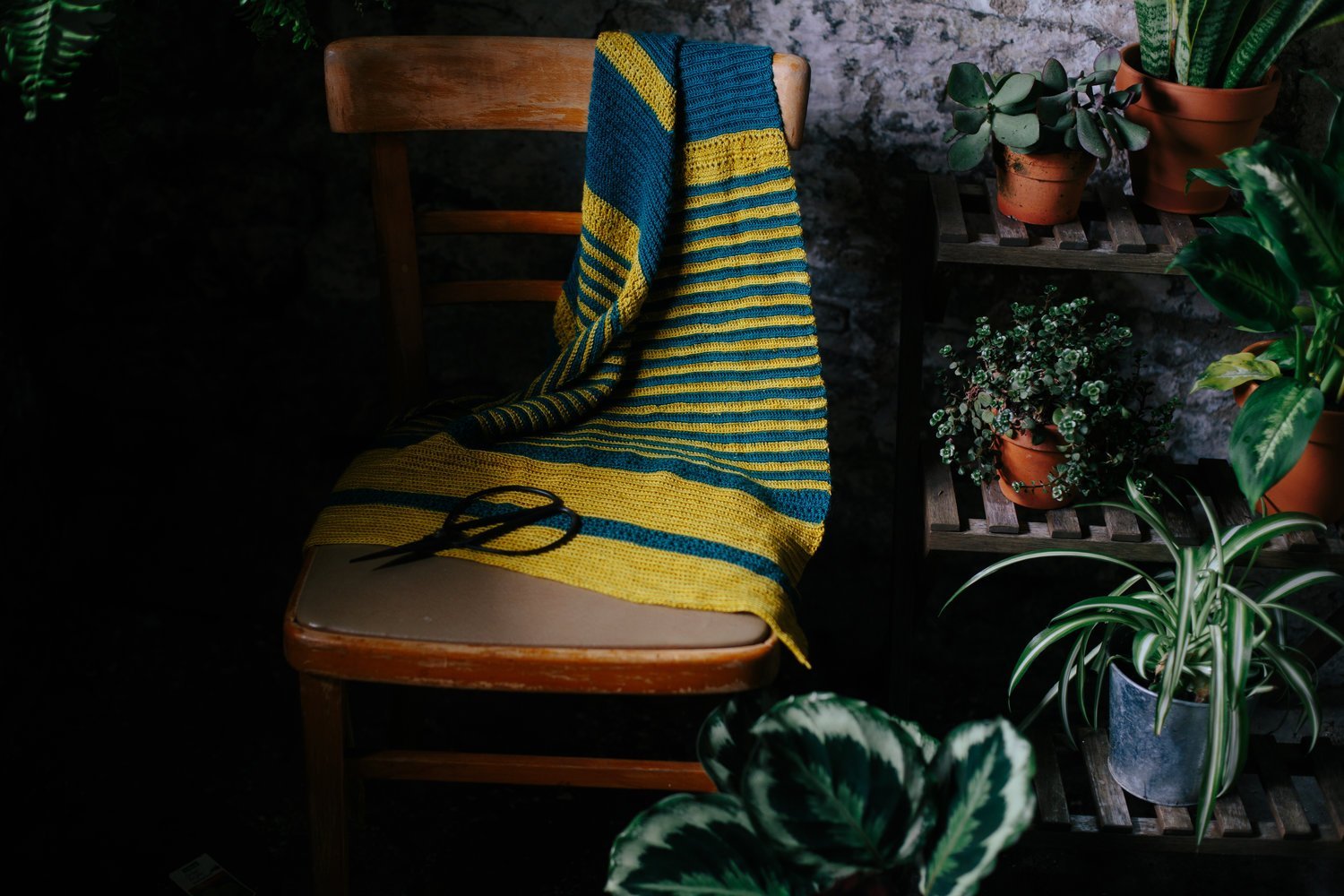 While we were at Wonderwool, Joanne and I spent a large part of our time drooling over the Triskelion Yarn stall. The sumptuous colours and elegant bases just begged to be touched and admired and ultimately taken home. To justify the purchases, we decided that we would each release a design in the yarn. Originally we had planned to keep it a secret from each other, but that lasted all of about 10 minutes.
From the moment I picked up the bold gold and dark teal of the Branwen line, I knew I wanted something bold and stripey. Originally, I had planned that the lace stripes would be the only pop of colours in the shawl, but as I absentmindedly crocheted at some school event, I accidentally added in a few of the alternating stripes in the ribbing section and decided it was meant to be.
Sizes
Wingspan (a): 145cm/57in
Depth(b): 56cm/22in
The shawl can be made larger or smaller by adding or removing additional repeats of section three.
Materials
100g skein Triskelion Yarn Branwen (fine 4ply, 50% Wool/50% Silk, 500m/546y) in Fiachra- Col A
100g skein Triskelion Yarn Branwen (fine 4ply, 50% Wool/50% Silk, 500m/546y) in Geld- Col A
3.5mm hook
Note: This yarn has a very generous yardage and is very fine for a 4ply. Should you wish to substitute the yarn you may need an additional skein of each and use a larger hook to ensure the resulting fabric has enough drape.
Tension
16 sts and 14 rows in double crochet in the back loop only to 10 cm/4 in using 3.5 mm hook (or size needed to achieve tension)
Difficulty Rating: Easy
Skills Needed: Basic crochet stitches, working in rows.
Construction: The shawl starts at one end, with increases at the neck edge only.